January is Cervical Health Awareness Month...
This is more important than you realize.

Each year, more than 13,000 women are diagnosed with cervical cancer in the United States. Yet cervical cancer is one of the most preventable cancers today. In most cases cervical cancer can be prevented through early detection and treatment of abnormal cell changes that occur in the cervix years before cervical cancer develops.
Learn about how we can prevent cervical cancer through regular screening with Pap and HPV testing and vaccination.
The National Cervical Cancer Coalition (NCCC) was founded in 1996 as a grassroots nonprofit organization dedicated to serving women with, or at risk for, cervical cancer and HPV disease. In 2011, NCCC merged with American Sexual Health Association (ASHA), a nonprofit with a long history of educating and raising awareness on sexual health issues. The NCCC has thousands of members around the world, and chapters across the U.S.
NCCC's Mission
To help women, family members and caregivers battle the personal issues related to cervical cancer and HPV and to advocate for cervical health in all women by promoting prevention through education about early vaccination, Pap testing and HPV testing when recommended.
NCCC Services
---
Get involved! Become a social media NCCC ambassador! (click here)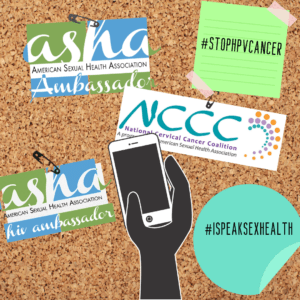 ---
Educational materials to help inform your population:
Free from NCCC
NCCC offers fact sheets about HPV and cervical cancer topics available free for download. These copyrighted materials may be reproduced but are not intended for commercial use or resale.
Useful websites from the NCCC for Information on HPV and Cervical Cancer:
AMERICAN SEXUAL HEALTH ASSOCIATION
www.ashasexualhealth.org
GOOGLE ALERTS
Sign up for Google alerts to stay apprised of articles about cervical cancer.
www.google.com/alerts
CENTERS FOR DISEASE CONTROL AND PREVENTION
www.cdc.gov/cancer/cervical/
DIRECTOR'S CONSUMER LIAISON GROUP (DCLG)
http://dclg.cancer.gov/
FIND A GYNECOLOGIC ONCOLOGIST
www.wcn.org/findadoctor/
GYNECOLOGIC CANCER FOUNDATION
www.cervicalcancercampaign.org/ccfacts/index. html
NATIONAL CANCER INSTITUTE - CERVICAL CANCER PAGE
www.cancer.gov/cancertopics/types/cervical
STAND UP TO CANCER
http://www.standup2cancer.org/
TAMIKA AND FRIENDS
www.TamikaandFriends.org
THE YELLOW UMBRELLA
www.theyellowumbrella.org
Contact Us - Customers | Patients | Partners
Contact us if you like what you see above, we would love to work with you.